2020 Service Award - Rowan Williams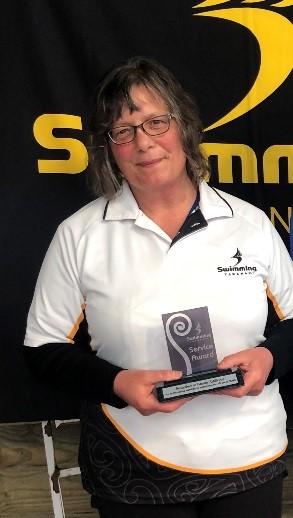 Rowan has been involved with swimming in Taranaki for over 10 years and over this time has gained national qualification in IOT (2013) and Starter (2014). Rowan is a Regional JOS (2016) and Regional Referee (2018).
Rowan was actively involved with the Aquabladz Swimming Club before joining the Swimming Taranaki Board in 2016. Rowan then joined the Technical Committee in 2017 to where she is still actively involved.
On top of these roles, Rowan is heavily involved with the organisation of the annual Flannagan Cup event.
Rowan has remained on the Methanex Bell Block Pool Society as a representative of Aquabladz New Plymouth.
While holding national roles as an Official, Rowan's greatest interest has remained as an Official at regional level and observing the development pathways of Taranaki swimmers as they progress through the sport.
2020 Service Award – Mrs Alison Gadsby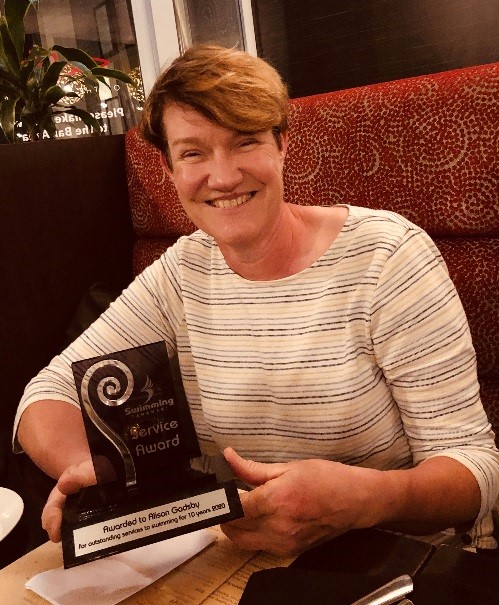 Alison's involvement in swimming spans over 10 years.
Alison was actively involved in Aquabladz swimming club serving six years on the committee, five of which as chairperson. She oversaw the amalgamation of Bell Block Swimming Club with Team Aquabladz forming Aquabladz Taranaki then the merger with New Plymouth Aquatics forming Aquabladz New Plymouth.
She attended multiple away meets as team manager including at least six National meets. Alison was Swimming Taranaki Team Manager on three consecutive DIV II Championships from 2012-2014. With her other swimming half Rowan Williams they managed many Aquabladz summer camps in Rotorua.
Alison holds a National IOT qualification (2010) and a Regional Referee qualification (2012)
Alison has made herself readily available over the years to assist with officiating at local and regional meets as well as Highlands Swimming Club Championships as well as the local year 7/8 schools annual champs. Her enthusiasm for grassroots swimming is greatly appreciated.
Alison served as Aquabladz representative on the Pool society for one year and Swimming Taranaki Board for several years. After completing her stint as Aquabladz Chairperson she joined the newly formed Swimming Taranaki Board in 2016 serving the last two years as chairperson.
Taranaki Service Awards

(1950's onwards)
1950

A G Petrie*

1982

B L Chainey*

D Hucker

1957

A J Bennett*

R Carlyon*

R E Lovett*

1983

D C Wheeler

Mrs E C Low

1959

D A Gayton*

H M Smith*

1985

Mrs J Moller*

Tonga Makawe*

1960

I S Russell*

1986

Mrs J Higham

A Higham

1961

D M Barker*

1987

Mrs N McMillian

1963

F O Strange*

1988

J D Trubnick

1964

Mr RJ Eager* (Stratford)

R Black* (Hawera)

1990

A McConnell

Mrs R Hancock

1965

Mr C S Martin* (Hawera)

Mr S N Elliot* (NPOB)

1993

Mrs M Bunning*

1966

Mr L H McGonagle* (Eltham)

1994

Mrs Johanna Reek

1967

Miss M Debenham (Stratford)

Mr R L Penny (Hawera)

Mrs I N Low (Hawera)

Mr B L Finch (Stratford)

Mr A P Bertie (Stratford)

Mrs L H Gayton (NPOB)

1997

J Simmons

Mrs M Simmons

1968

Mr A G Lilley*

Mrs K F Lilley*

Mrs M C Diack*

D A Low*

C R Lister*

N F Robertson*

2000

Mrs Judy R Ranford

M N Dalton

1969

J F Morwood (EE)

2002

Mrs P Willy

Mrs B Campbell

1970

Mr W Birdling (Waitara)

Mr L Knapman (Fitzroy)

Mrs H McGonagle (Eltham)

2003

Mrs S Tamarapa

Mrs D Cloke

Mrs Sue Southgate

1971

Miss M Guy (Hawera)

Mr L H Samuels (Highlands)

Mr F Verney (Patea)

Mr E Askew (Rawhitiroa)

2004

Mrs Rhonda Hollins

1972

Mrs J Mack (F)

2006

Mrs Judith Armstrong

1973

Mrs J Wiseman (Highlands)

Mr W I Scott* (Highlands)

2007

Mr Kevin Glentworth

Mr George Sibtsen

1974

Mrs D Mischewski (Inglewood)

2009

Mrs Cathrine Tippett

1975

Mrs Mary Boon* (NPOB)

Mrs Noeline Smith* (Highlands)

Mr Ray E Hepworth (Highlands)

Mr Reg Taha* (Pungarehu)

2011

Sharon Arlidge

Margaret Higgison

Denyse Salisbury

1976

Mrs A L Sulzberger* (Kaponga)

Mrs E Cooper (Waitara)

K Cooper* (Waitara)

2013

Gayle Davis

Julie Owen

Claire Weir

1977

P F Maxwell (Stratford)

I D Cameron* (Hawera)

2015

Susan Darney-Taylor

Karyn Salisbury

1978

Mr J Wetzel (NPOB)

2015/16

Dianne Cooper

Kevin Mace

1980

Mrs E Smith*

2018/19

Sonia O'Connell

1981

Mrs M D Cameron

R A Low

V D Colson

2019/20

Rowan Williams

Alison Gadsby