2020 Life Member Award - Mrs Cathrine Tippett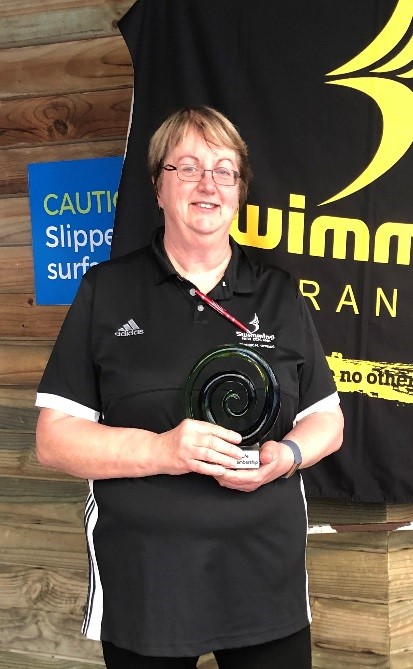 This year Cath Tippett was awarded a Swimming Taranaki Life Membership award.
Cath's participation in this sport commenced in 1996 when she joined New Plymouth Aquatics (NPA) and today she remains a current member of Aquabladz NP Swimming Club. During this time she has carried out roles of Committee Member, Carnival Secretary, President and Club Recorder. Cath regularly attends club meets and regional competitions to assist with either official roles poolside or the training the new officials.
During this time Cath's three children participated in swimming. In the early years Cath was an active member of NPA and spent fifteen years on the NPA Committee. Her roles included Vice President, President and recorder. She was often asked to attend national events and found herself frequently around national grade officials.
With a move to Bell Block Swimming Club in the early 2000's Cath was an active member through the Club changes from Bell Block to Aquabladz Taranaki and to current Aquabladz NP. Cath was responsible for a major fundraising event in the 2000's for the new roof, covering the Methanex Bell Block Aquatic Centre. In addition she was a member of the Bell Block Pool Society.
Cath has remained an active member of this Club, taking roles of President, Club Recorder, Committee member and Carnival Secretary. Cath was Team Manager on many occasions and developed a close working relationship with Sue Southgate ensuring away meets were well managed.
In addition to roles with the Club, Cath's passion as an official developed and today Cath is a National Referee. Cath's 'Official' career commenced as a Starter trained by Ian Russell and passed by Bill Mattson at Opunake. Today as an active member of the Swimming Taranaki Technical Committee she is responsible for bringing new parents on board as officials and bringing parents along the Officials pathway. As a referee Cath is known for her fairness in decision making as well as her exceptional memory for detail, figures and history.
In 2019 Cath received a Taranaki Service Award and in 2013 was awarded a NZ Service Award. Cath has also been awarded a Volunteer Service Award by New Plymouth District Council.
Swimming Taranaki Life Members

Pre-1964

Mr C V Spragg

1990

Mr Ray Hepworth

1967

M Thompson

2007

Mr Clive Wheeler

1967

A G Petrie

2013

Mrs Beth Low

1975

Mr Ray Lovett (Fitzroy)

2013

Mr Robbie Low

1979

Mr H Smith (Hawera)

2015

Mrs Sue Southgate

1982

Mr Ian S Russell*

2015

Mr George Sibtsen

1983

Mr Douglas Gayton*

2019

Mrs Denyse Salisbury

1983

Mrs Lorna Gayton*

2019

Mrs Margaret Higgison

1986

Mr Fergie Strange*

2020

Mrs Cathrine Tippett